SPF-100
100W 12V Anti-Crack Flexible Solar Panel
Anti-Crack Technology
23% conversion rate
4.9 pounds weight, 0.09 inches thin
Bendable up to 240 degrees
IP67 waterproof rating
6 pre-drilled mounting holes
Shipping & Returns

Free Shipping on All Orders! 30-Day Money Back Guarantee!
Compatibility

Compatible with 98% Solar Appliances
Calpha 100W 12V Anti-Crack Flexible Solar Panel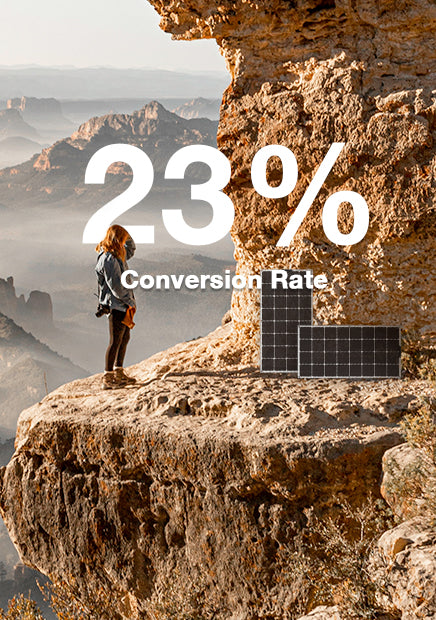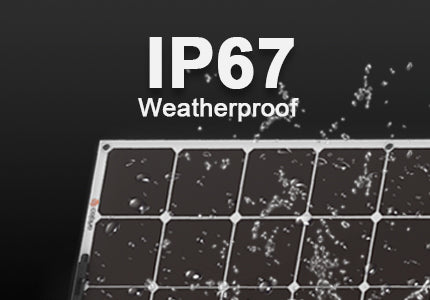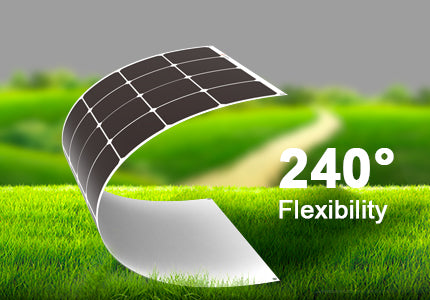 Tougher than you think
Totally Different & Way Better
The solid copper foundation of our anti-crack solar cells enables them to bend under tough conditions where others break, minimizing power losses caused by cracks and breakages, and delivering up to 30% more output power compared to conventional cells.

Lower Degradation Rates
Reliability for Greater Savings
Through professional laboratory bending tests, our anti-crack solar panels have demonstrated the lower degradation rates. Their reliability is nearly 4 times stronger compared to conventional panels, ensuring that your investment pays off even more.

Flexible and Portable
Ideal for Unconventional Mounting Surfaces
Extreme Flexibility: capable of bending up to 240 degrees.

Weighing Only 4.9 Pounds: 1/4th the weight of traditional panels.

0.09 Inches Thin: 95% thinner than their rigid counterparts.

Both 6 metal-reinforced mounting holes and silicone structural adhesive enable fast and easy installation.
Built to Withstand Harsh Environments
Equipped with an IP67 rated junction box and connectors, advanced lamination, and an anti-crack foundation, they endure water and dust, ensuring continuous performance even in harsh conditions.




More Product Details


Yacht/Marine

RV Camping

Curved Roofs

Outdoor Adventures

Calpha 100W 12V Anti-Crack Flexible Solar Panel

User Guide
Specs

Same Part Number, Different Size
I bought the 400W Premium Kit in Aug in 2021. I had a panel break and had to replace it. Renogy is a fantastic company and the products are rock solid.
5 out of 5 stars.100 Watt Panels
These 100 watt panel fit nicely on the roof of my RV.Work great got a small setup for my chicken lights and automatic door
Smart Choice for Solar Panel
I live on a boat. Have for many years. As such I've used solar exclusively. Your panels have out performed all my previous panels. By a lot. Not sure what your secret is but keep up the good work.