SPF-100
100 Watt 12 Volt Anti-Crack Flexible Monocrystalline Solar Panel
---
High Power Output: 100W Monocrystalline Flexible Solar Panel, about 500 Watt-hours of electricity per day under 5-6 hours of direct sunlight

Industry-leading Tech: Improving solar conversion efficiency with transparent and matrix distributed dots
Portable for Mobility: Ultra-lightweight at 4.2 lbs (1.9 kg), bend up to 240 degrees, ideal for mobile applications and outdoor activities
Universal Compatibility: Equipped with MC4 Connector and Pre-drilled holes for fast installation
Premium Quality: Backed by CE, FCC, RoHS
Shipping & Returns

Ships within 24 hours, delivers within 2-5 days
Free Shipping - within 48 contiguous United States
Local in stock, available for self-pick-up
30-Day Money Back Guarantee!
All Calpha products purchased from Calpha or their official dealers come with a limited warranty (as shown below). This limited warranty covers substantial defects in workmanship & materials and, for some products, performance.
The warranty period started from the original purchaser's date of recipient.

Warranty Period
Product Category

Warranty Details*

Rigid Solar Panels (100W, 200W)

5 year material and workmanship warranty

5 year performance warranty (95% output warranty)

Flexible Solar Panels (100W, 200W)

2 year material and workmanship warranty

Chargers, Inverters & IoT Devices

2 year material and workmanship warranty

LiFePO4 Batteries

5 year material and workmanship warranty (prorated)**

Accessories

1 year material and workmanship warranty

*Please Note: For safety, any wiring work should be performed by a licensed electrician. Failure to properly install or operate the equipment will void the warranty.

**Prorated Warranty Details:
| | |
| --- | --- |
| Time | Charge for Replacement |
| Within 1 Year | no extra charge |
| After 1 Year | extra charge = purchase price x (1 - remaining warranty period / total warranty period) |

Within a valid warranty, Calpha will choose from the following two options:***
(1) repair the product at no charge, using brand new or refurbished replacement parts;
(2) exchange the product with a functionally equivalent product that is new or which has been manufactured from serviceable used parts.
All replacements will be compatible with the original products with an equal power rating. A replacement product/part assumes the remaining warranty of the original product or ninety (90) days from the date of replacement or repair, whichever provides longer coverage for you.
The transfer of property ownership is completed once a original product and its repaired product or replacement have been exchanged.The replaced product or part becomes Calpha's property and the replacement product or part becomes your property.
*** Please Note: If a warranty claim is invalid for any reason, the purchaser will be charged for

necessary expenses incurred by Calpha (e.g. shipping, labor and material costs).

Limited to Original Purchaser

Please note that our warranty is strictly not transferable and will be invalidated by any resale or donation behavior. Accordingly, this warranty is void and disabled to any subsequent owner.

Exclusions and limitations
This limited warranty does not apply to:
1. Free merchandise;
2. Force majeure: lost or stolen items, fires, floods, earthquakes, hurricanes, severe weather, wars, and acts of terrorism;
3. Items beyond their warranty period;
4. Items that have been returned and refunded;
5. Items purchased from unauthorized resellers;
6. Items that cannot be verified to be "Calpha" products due to the lack of valid proof of purchase;
7. Qualified products without any material and workmanship defect;
8. Damage caused by operation or service of unqualified third-party;
9. Damage caused by improper installation and storage, misapplication, unauthorized repair, modifications, dis-assembly, incorrect handling and transportation not in accordance with official user manual / datasheet;
10. If our technical support team determines the product is not eligible for warranty repair or its defect is not due to our workmanship or materials, then all the costs incurred by the warranty necessary to repair, replace and transportation of the product is at your expense.

Valid Proof of Purchase

A valid order number of your purchase, either from calpha.com, or from online B2C platforms like eBay.
Order confirmation email or sales invoice that contains the description of products, price, and sales channel.
Warranty Registration
Register your warranty at our warranty registration page.
Return Material Authorization (RMA) Process

In order to initiate the repair / return process, please contact Calpha customer service and provide your warranty information.
After we confirm this is eligible for a valid warranty, we will issue a Return Material Authorization (RMA) number and provide packaging & shipping instructions on how to properly and safely ship the products back. Customers MUST package the products properly and safely and mark RMA number on the package.
After we receive and verify the returned items, we will process your return and send your repaired or replacement product to you at our expense.
Replacement

After the defective products have been received at our warehouse, our team will process the delivery of replacement ASAP (generally within 15 days). Actual delivery date is subject to the availability of the replacement products.
The warranty period of the replacement is equal to the remaining warranty period of the original item or 3 months, whichever is longer.
Declaration

This warranty and remedies stated above is the only officially recognized warranty regulations of Calpha, which can replace all other warranties, remedies and conditions, whether oral or written, express or implied.
No dealer, agent, employee or any other person is authorized to give any warranties which is beyond the scope of what our limited warranty sets forth.
Calpha disclaims all liability arising from any direct, consequential or incidental damages because of use or malfunction of Calpha products, or from any breach of warranty. And Calpha will not be liable for implied warranties, including, without limitations, warranties of merchantability and fitness for a particular purpose. If Calpha cannot lawfully disclaim such implied warranties, these warranties are limited in duration to the duration of this warranty.
Please note some states prohibit limitations on how long an implied warranty lasts, the warranty period may vary according to local laws and regulations. So above limitation may not apply to you. You may have other rights based on your region.
Calpha 100W 12V Anti-Crack Flexible Solar Panel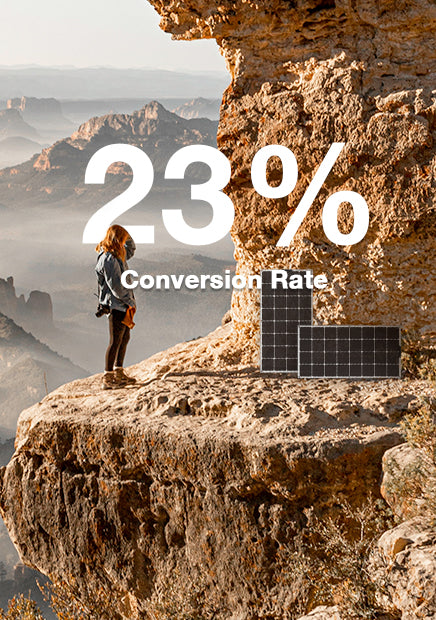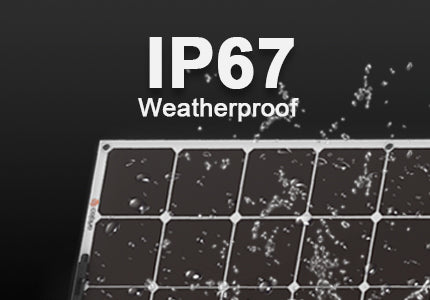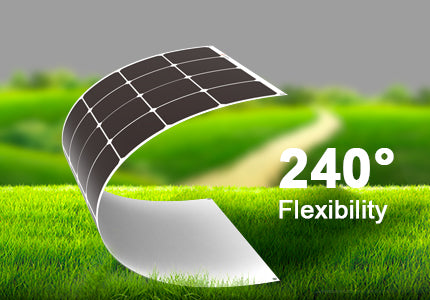 Impressive Flexibility
The anti-crack solar cells feature a solid copper foundation that provides exceptional durability and flexibility. They are designed to bend without sustaining damage, minimizing power losses caused by cracks and breakages. Compared to conventional cells, Calpha anti-crack solar cells deliver up to 30% more output power, enhancing the performance of solar panel systems.
Higher conversion rate
The transparent dots on the surface of our solar cells have the ability to gather sunlight from different angles. This allows for the efficient utilization of sunlight and an increase in the solar conversion rate. Additionally, the matrix distribution of these dots causes refraction, enabling the sunlight to be utilized twice within the solar cell.

Reliability for Greater Savings
Through professional laboratory bending tests, our anti-crack solar panels have demonstrated the lower degradation rates. Their reliability is nearly 4 times stronger compared to conventional panels, ensuring that your investment pays off even more.

Flexible And Portable
Calpha flexible solar panels offer an impressive flexibility of up to 240 degrees, allowing for easy and secure installation on curved roofs or RVs. Weighing only 4.9 pounds, these panels weigh 1/4 of traditional panel and are incredibly portable, making them perfect for outdoor activities like camping, hiking, and RVing.
Built to Withstand Harsh Environments
Calpha flexible solar panels are designed to withstand harsh conditions with their robust features. They are equipped with an IP68 rated junction box and connectors, providing excellent protection against water and dust intrusion. This ensures continuous performance and reliability, even in challenging environments.





Yacht/Marine

RV Camping

Curved Roofs

Outdoor Adventures
More Product Details


Calpha 100W 12V Anti-Crack Flexible Solar Panel

User Guide
Specs

Same Part Number, Different Size
I bought the 400W Premium Kit in Aug in 2021. I had a panel break and had to replace it. Renogy is a fantastic company and the products are rock solid.
5 out of 5 stars.100 Watt Panels
These 100 watt panel fit nicely on the roof of my RV.Work great got a small setup for my chicken lights and automatic door
Smart Choice for Solar Panel
I live on a boat. Have for many years. As such I've used solar exclusively. Your panels have out performed all my previous panels. By a lot. Not sure what your secret is but keep up the good work.