BR01-51100-01-W0101-CK0101-CK0200
51.2V 100Ah Smart Lithium Iron Phosphate Batteries with Mounting Box Tray Bracket
---
High-Quality: Designed with new A+ grade battery cells
Integrated Circuit breaker: Safeguards energy system and devices
BMS: More than 30 internal protections
Certifications: CE, ETL, and UL1973
Plug and Play Design: Simply plug in and power up
Compatibility: Compatible with major inverter brands and ideal for homes & cabins & sheds
Longer lifespan: 95% DOD, 6000 Charge Cycles at 80% DOD
Cost Saving: Lifetime cost down to $0.05/kWh
Connect in Parallel: Expandable for 76.8kWh of backup power (15P)
Two Mount Options: Rack Mount/Wall Mount
Shipping & Returns

Ships within 24 hours, delivers within 2-5 days
Free Shipping - within 48 contiguous United States
Local in stock, available for self-pick-up
30-Day Money Back Guarantee!
Calpha 51.2V 100Ah Smart Lithium Solar Battery
Battery for solar panels, also known as solar battery storage systems, work by storing the excess energy produced by solar panels during the day. This 51.2V lithium iron phosphate solar system battery has passed rigorous tests and obtained CE, ETL, and UL1973 safety standards, ensuring reliability. Weighing just 41.5kg (91.5lbs), it provides a convenient and portable solution.
Superior Safety with A+ Cells
The Calpha 5.12kWh lithium solar battery for off grid solar systems is designed with new A+ grade battery cells that adhere to industry-leading standards. It does not incorporate recycled materials, ensuring the use of high-quality materials, advanced technology, and reliable energy storage. It ensures significantly higher safety levels compared to ternary lithium batteries due to its inherent chemical stability, uniform cell quality, efficient heat dissipation, and non-flammable electrolytes.

Advanced Battery Management System
Based on 10 years of solar Battery Management System (BMS) expertise and more than 30 internal protections, we have developed this solar battery for off grid solar system. The BMS ensures optimal performance and longevity of your power source by monitoring, protecting, and controlling critical parameters such as voltage, temperature, and current.

15 years Usage Lifespan
With an impressive 6000 cycles at 80% DOD, this solar battery offers twice the longevity of other lithium batteries, making it an excellent choice for solar energy storage for camping trips and home battery backup. Its 15-year lifespan ensures peace of mind and long-term savings. Additionally, the 5-year warranty provides added assurance and protection for your solar battery backup systems.

Connect in Parallel
Maximize the runtime of your off-grid power systems by connecting 15 Calpha 51.2V 100Ah Solar Batteries in parallel, you can get an impressive 76.8 kWh of power. This exceptional scalability empowers you to customize your power needs precisely, whether it's for residential, commercial, or industrial applications.

Smart Monitoring
Calpha 48V(51.2V) 100Ah Lithium Battery seamlessly integrates with a Wi-Fi communication dongle and IoT mobile app, providing real-time access to critical battery information. It supports multiple communication interfaces, including RS485, CAN, and RS232, ensuring compatibility with a wide range of systems. By enabling communication with inverters, our battery enhances safety measures and promotes efficient energy flow.

*Please note that modification to the communication protocol may be required, and you can contact us for further details.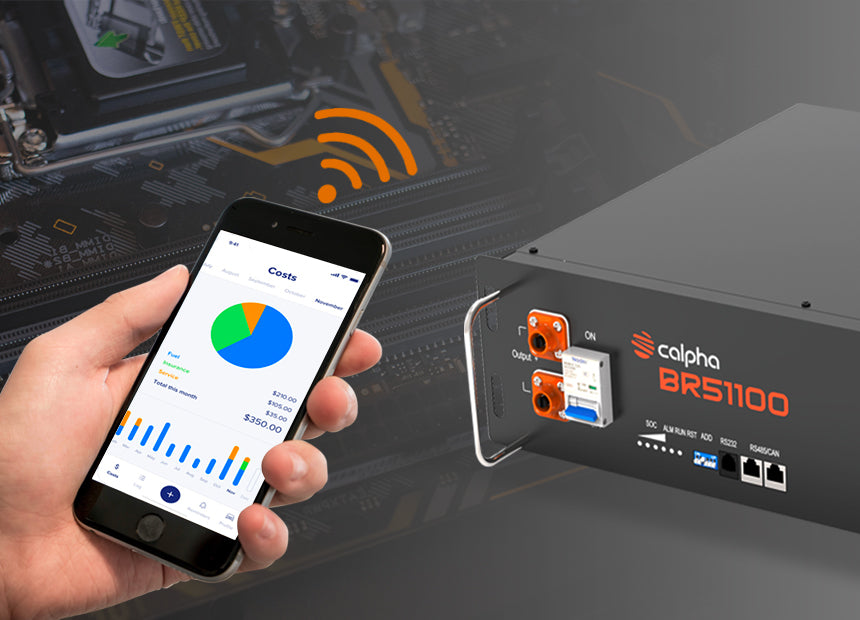 Plug and Play Design
Enjoy the convenience of a seamless setup experience, whether you're a seasoned solar enthusiast or a first-time user. Our user-friendly plug-and-play connector simplifies the process, allowing you to focus on harnessing the power of solar energy rather than getting caught up in intricate installation procedures.

Circuit Breaker
Our battery's integrated circuit breaker promptly responds to excessive currents or faults, ensuring the safety of your energy system and connected devices. With advanced monitoring and automatic interruption features, potential hazards are prevented, allowing uninterrupted operation.
Rack Mount and Wall Mount Options
The Rack Mount option effortlessly integrates into your existing setup, maximizing space efficiency and ensuring a secure installation. Alternatively, our Wall Mount solution offers a space-saving alternative, securely mounting the batteries on any suitable wall surface. Both methods prioritize safety, convenience, and efficient maintenance, empowering you with reliable power solutions tailored to your unique needs.


51.2V 100Ah Smart LiFePO4 Lithium Iron Phosphate Battery

User Manual
Specs

Same Part Number, Different Size
I bought the 400W Premium Kit in Aug in 2021. I had a panel break and had to replace it. Renogy is a fantastic company and the products are rock solid.
5 out of 5 stars.100 Watt Panels
These 100 watt panel fit nicely on the roof of my RV.Work great got a small setup for my chicken lights and automatic door
Smart Choice for Solar Panel
I live on a boat. Have for many years. As such I've used solar exclusively. Your panels have out performed all my previous panels. By a lot. Not sure what your secret is but keep up the good work.